Benjamin Franklin once said that in this world, nothing can be said to be certain, except death, taxes, and the fact that bacon makes everything better.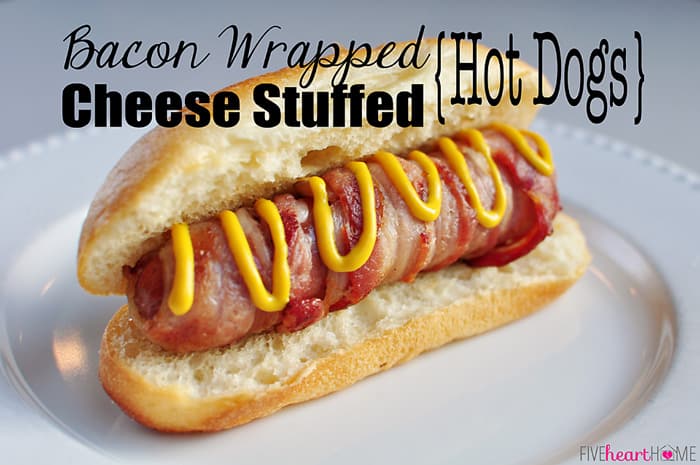 Ole' Ben was onto something, don't you think?
I can probably count on one hand the number of times per year that I eat a hot dog.  It's not that I don't enjoy them when I do…hot dogs are just kind of situational/seasonal for me.  I'll have one at a baseball game in the spring or at a barbecue in the summer or with chili on top in the fall.  But oozing with cheese and wrapped in bacon? Well, that could make eating a hot dog (or three) a weekly affair.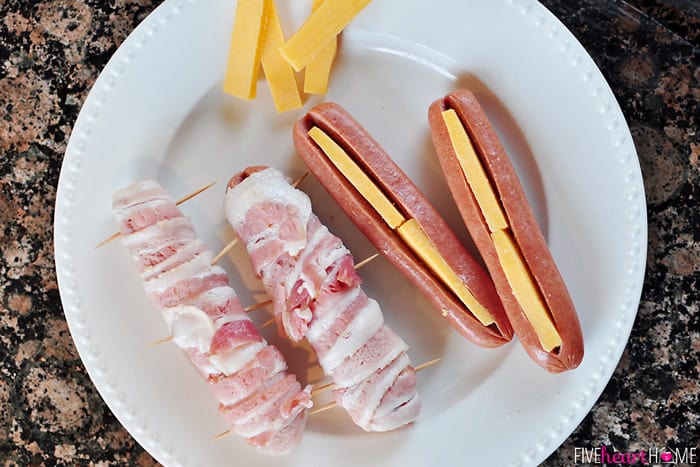 If you're looking to take your next cook-out to the next level, might I suggest the following method: take a package of plump, good-quality hot dogs, slit them down the middle, stuff them with sharp cheddar, and wrap them snugly in a jacket of flavorful bacon.  Then take your time grilling them so that, as the cheese melts, the bacon gets nice and crispy all the way around.  I'm telling you, you'll never want to eat a plain hot dog again.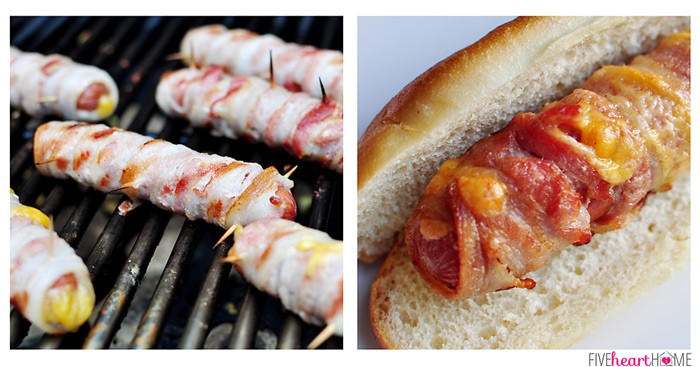 Sure, my kids enjoyed these, but they don't yet have the abundant appreciation for bacon that takes 30-plus years to fully cultivate.  So I'm telling you now, if you L-O-V-E bacon like I do, you must try these hot dogs.  Even if you're lukewarm towards hot dogs and/or cheese, you must try these hot dogs.  And if you want to go all Emeril on me and kick it up yet another a notch, you could even stuff some sauerkraut and/or sautéed onions on top of the cheese before wrapping the whole caboodle in bacon.
I know, I know…bacon is not exactly health food and, as responsible adults, we should enjoy it in moderation.  But the same could be said about hot dogs.  So I'm going to side with Mr. Franklin on this one and say that it's okay, nay encouraged, to wrap your hot dogs in bacon.  For special occasions, of course.  And if this upcoming Fourth of July isn't the type of special occasion that calls for such cheese-stuffing and bacon-wrapping — after all, what's more American and patriotic than a hot dog? — well, I don't know what is.
Adapted from Savory Reviews.
This post is linked to Pin It Monday Hop #14 at Pursuit of Functional Home, Lil' Luna Link Party 133 at Lil' Luna, What's in Your Kitchen Wednesday #28 at Kitchen Meets Girl, Wednesday Extravaganza #34 at Hungry Little Girl, and Live Laugh Linky #67 at Live Laugh Rowe.