After bubbling away in the crock pot all day, comforting white chili — studded with tender chicken, white beans, and tangy green chiles — is topped with your favorite garnishes: fresh cilantro, crunchy tortilla chips, gooey cheese…the possibilities are endless!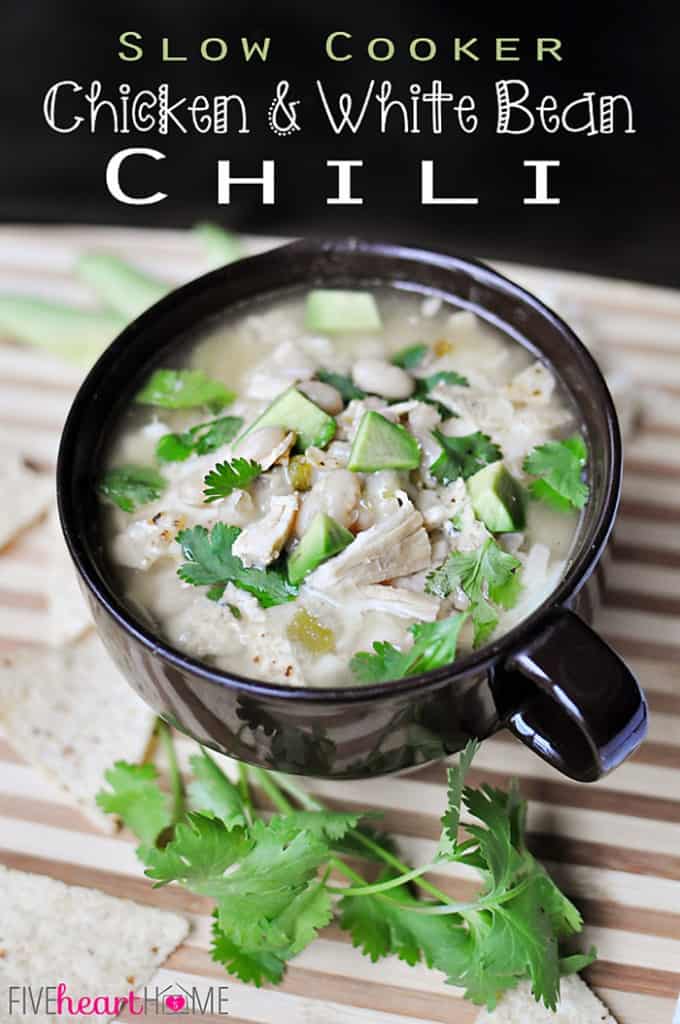 This week, central Texas had our first taste of legitimate autumn temperatures this season: we dipped into the 50s overnight and actually stayed there all day! Granted, it was back up in the 70s by the following day, but the temporary change in weather was crisp and refreshing, albeit short lived.
What's funny is the reaction of my kids when it gets "cold" (relatively speaking) for the first time in the fall. For children who step outside when it's 80°, shiver, and say, "Wow, it's cold out here!", cool temperatures in the 50s come as quite a shock. Heck, who am I kidding here? 50° is cold to me! Anything below that is downright frigid.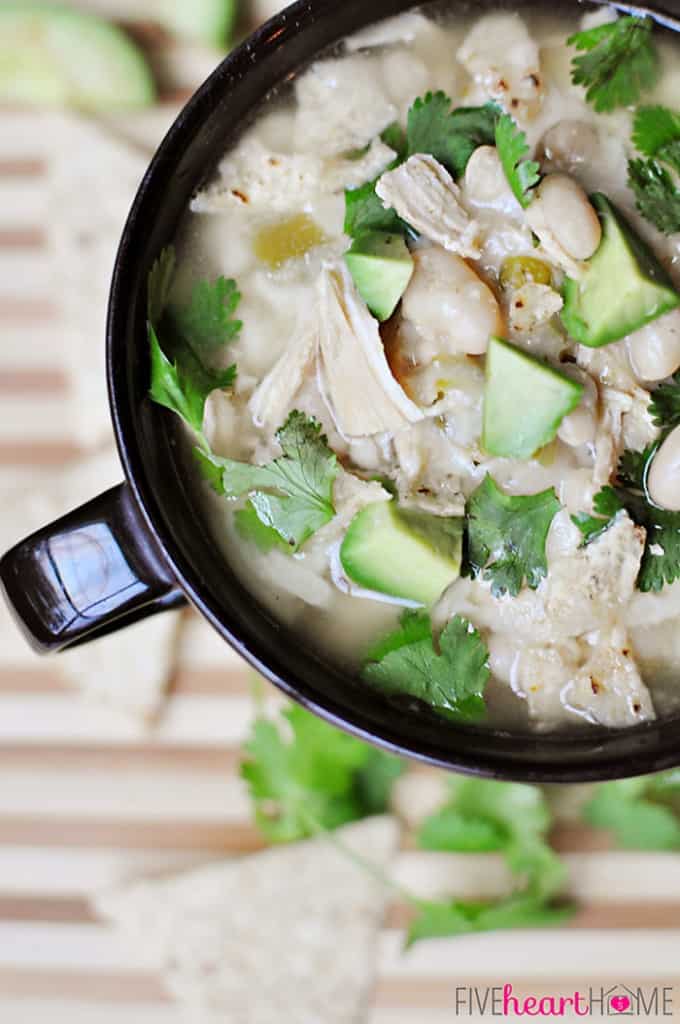 So how did we celebrate the finally-cool/cold weather after a summer spent in the high 90s or topping 100°? Why, we made soup, of course! But not just any soup…a flavorful, hearty white chili, chock full of juicy chicken, tender white beans, and green chiles, and garnished with generous amounts of fresh cilantro, crushed tortilla chips, and creamy Monterrey Jack. It's a fiesta for your taste buds, I tell you.
Just as enticing as this warm, delicious meal is the fact that it takes mere minutes to throw together and then cooks in the crock pot all day. Who wouldn't love coming home from a cold, blustery day to the smell of white chili bubbling away in the slow cooker? At that point, the only thing left to do is shred the chicken, add some milk for creaminess and a bit of masa or cornmeal for a fabulously flavorful undertone, and get your garnishes ready to go.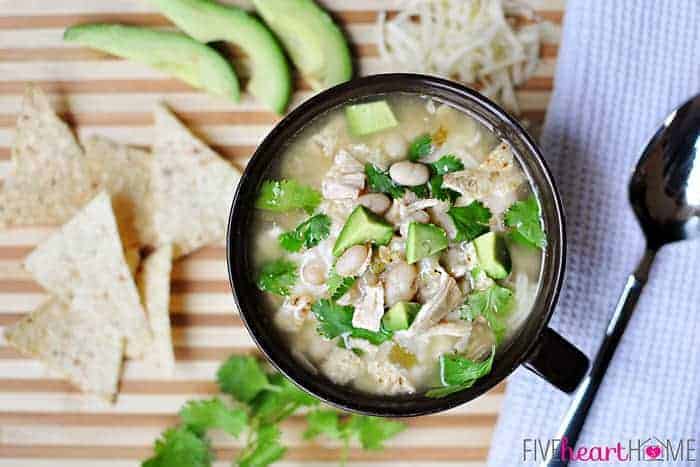 Now a quick word about the suggested garnishes for this dish…don't leave them out!  I think that they are crucially important to the final flavors and textures in this white chili. At the very least, you must include the fresh cilantro, the tortilla chips, and the cheese. These three garnishes take this meal from good to great, and I have sorely missed them the few times I've eaten a bowl of this chili without them, whether it was because I ran out of something or I was just in too much of a hurry to get the extra ingredients out and thought they wouldn't ultimately make that much of a difference. Well, I'm here to tell you that they do. Even if you don't typically care for cilantro, I implore you to try at least a little in your first few bites. You just might change your mind.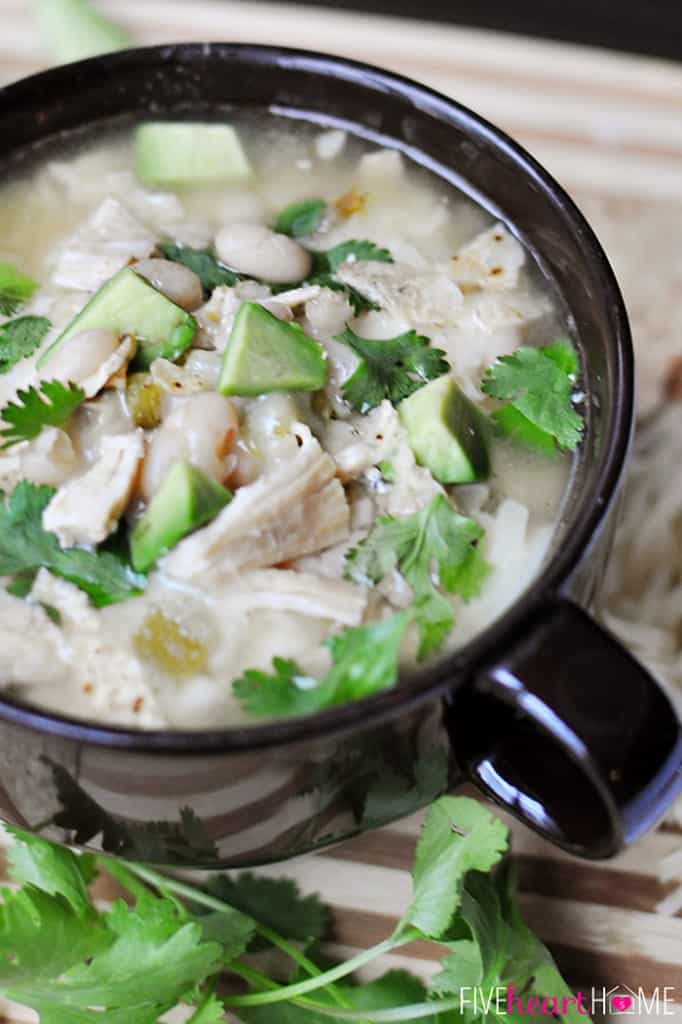 As for the other garnish ideas I've suggested, such as avocado chunks, salsa, pico de gallo, diced jalapeños, and/or sour cream? Well, they'll take this bowl of comforting goodness from great to over-the-top! Think of this white chili as a delicious blank canvas and add whatever Mexican/Tex-Mex/southwestern garnishes that make your mouth sing. Just be sure to start with an extra-large bowl…take my word for it.
So whether your definition of cold weather is 60° (*raising hand*) or -10°, this white chili is the definition of a meal that will warm your heart (and your toes). It's a family favorite around our house, and I hope it becomes one at your house, too!
Adapted from Pioneer Woman.
This post may be linked up to Live Laugh Rowe, Mandy's Recipe Box, House of Rose, 4 Little Fergusons, Lil' Luna, Uncommon Designs, and these fabulous parties!